She jokingly says she can not look down when wearing the imperial state crown, which weighs 2lbs 13oz (1.28kg), as her neck would "break".
"So there are some disadvantages to crowns, but otherwise they're quite important things", the Queen adds. But once you put it on, it stays.
The 91-year-old Queen's candid and often arch comments come in an hour-long programme entitled The Coronation. The Daily Telegraph describes it as an "unrivalled insight into events behind-the-scenes".
The Queen, who was 27 when she was crowned, is also shown nonchalantly flicking four pearls hanging underneath the arches of the crown.
Among the revelations of the BBC program airing Sunday is that the crown jewels were kept safe during World War II by being hidden in a biscuit tin buried at Windsor Castle.
Her Majesty apparently discovered what happened to the crown jewel during the filming of a BBC One documentary.
Travelling in the "not very comfortable" leather-sprung Gold State Coach was "horrible".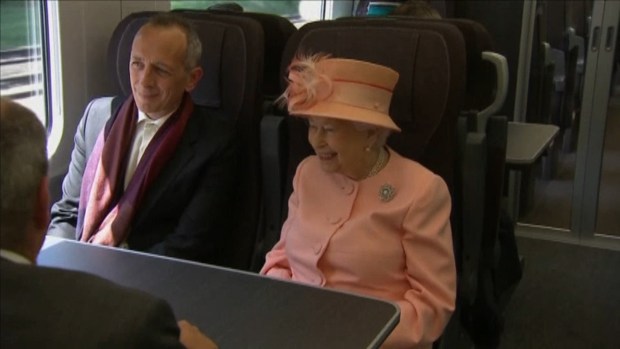 Queen Takes Train 175 Years After 1st Royal Ride
And if she as little as dipped her head to read her Coronation speech, it would "break your neck".
She also recounted how she was brought to a standstill when her robes ran against the carpet pile in the abbey during her coronation. "It is sort of a pageant of chivalry and old-fashioned way of doing things really".
Elizabeth wore 2 crowns for the occasion: the St. Edward's Crown, which she has never worn since, and the diamond-encrusted Imperial State Crown which she wears at formal occasions such as the opening of parliament when she delivers a speech outlining the government's legislative plans.
She says her journey to the abbey was four to five miles - "halfway around London", she claimed.
The Palace said the Queen had not given an "interview", which would breach Royal protocol. "We could only go at a walking pace".
Despite the intense pressure that must have been on her at the time, Bruce said Queen Elizabeth spoke of the coronation with lightness and clarity. 'Not what they're meant to do, ' the Queen says with mock sternness. "I've seen one coronation (her father's in 1937) and been the recipient in the other, which is pretty remarkable".
The Queen said she particularly likes the Black Prince's Ruby in the crown, which was reputedly worn by King Henry V in 1415 at the Battle of Agincourt.
Marathon Oil (MRO) Receiving Somewhat Favorable Media Coverage, Study Shows
Scotiabank restated a "hold" rating and issued a $75.00 price objective on shares of Marathon Petroleum in a report on Wednesday. Raymond James Fin Advsrs Inc holds 0.34% of its portfolio in Marathon Petroleum Corporation (NYSE:MPC) for 935,391 shares.